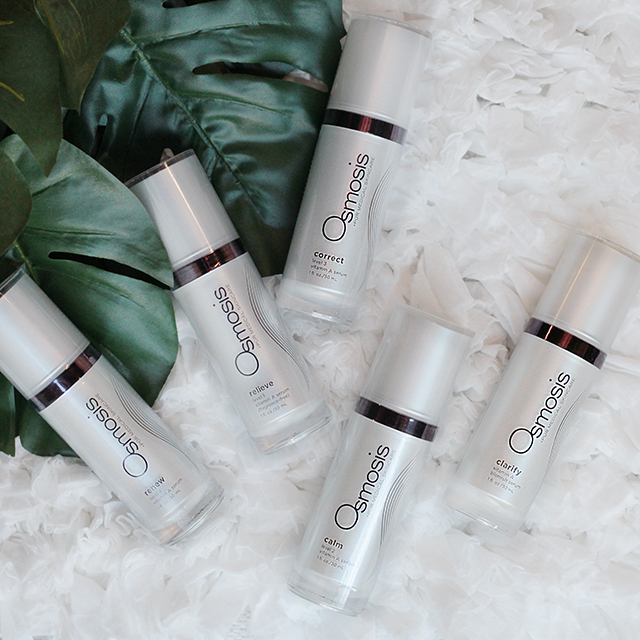 Here at Wellness on Whyte, we are proud to carry select products from the Osmosis Medical Skincare line.
Osmosis was founded by Dr. Ben Johnson, a medical doctor whose career started in 1997 with his opening of the first medi-spa chain in the U.S.  The formulation of his first skincare line, Cosmedix, revolutionized the beauty industry by introducing a medically recognized approach to skincare using all natural, botanical and chirally correct ingredients.
Dr. Johnson's creation of Osmosis aims to further revolutionize skincare by focusing on dermal remodeling, which treats and literally feeds deeper dermal layers, while avoiding damaging treatment protocols like excessive exfoliation, laser therapy and chemical peels.  Active ingredients in Osmosis skincare products act as collagen stimulators that ultimately encourage the skin to repair itself, which reverses scaring, acne, discoloration and sun damage without causing irritation or inflammation. Osmosis is designed to work in alignment with the inherent healing capacities of the body and skin.  It is free of parabens, artificial fragrances, sodium lauryl sulfate and other harmful additives.  In addition, it contains more active ingredients per serum than any other skincare line in the world, and is proven to absorb 10 times more effectively than other skincare lines. Further, Osmosis is comparatively very affordable considering its performance capacity.
From Dr. Johnson himself:
"I created Osmosis because I wanted to transform the aesthetic industry. Let's help people move away from weakening the skin and instead create a partnership that empowers healing and remodeling.  Every action by the skin is perfect so our efforts should always be supportive and address the actual source of the imbalance. Permanent change is possible, your skin just needs to be inspired."
Our own Katarzyna says that she "loves" Osmosis skincare very simply "because it works!" With years of hard won experience behind her, Katarzyna notes that in combination with facials, clients have visible results with Osmosis by their 3rd visit.
Please stop by to see what products we have on our shelves, or book yourself in with one of our trusted aestheticians to experience the life-changing results that come with the use of Osmosis Medical Skincare.
[pl_button type="success" link="https://clients.mindbodyonline.com/classic/ws?studioid=24422&stype=-9&sTG=7&sView=day&sLoc=0″ target="blank"]Book Now[/pl_button]