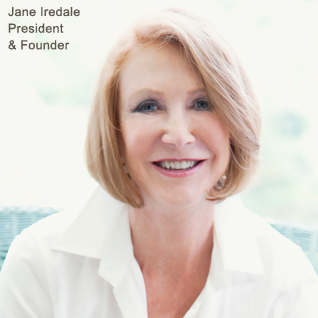 Through the month of June, receive a gift with minimum $80 purchase of Jane Iredale product. 
Jane Iredale is the president and founder of Iredale Mineral Cosmetics, the first and most renowned mineral-based makeup line in the world.
Before starting her own cosmetics company in 1994, Jane enjoyed an exciting career in film, theater and television, rubbing shoulders with names such as Francis Ford Coppola, Steven Spielberg and Glenn Close. While Jane's list of accomplishments in the industry are impressive, being involved also gave her the opportunity to intimately understand the influence of healthy skin on the lasting careers and confidence of women in her industry. This is what inspired Jane to develop a safe and natural makeup line that both enhances beauty AND improves the health of the skin. Jane Iredale's is a skin care makeup line in that it uses a variety of botanicals that lend medicinal value, the fact that the products do not block pores, offer sun protection, are anti-allergenic and anti-irritant, use natural, non-harmful preservatives and are NOT nano-particle sized. Jane Iredale is also an advocate for the environment and a philanthropist, supporting such causes as Habitat for Humanity, The Red Cross, The Literacy Network, Living Beyond Breast Cancer and The Humane Society, to name a few. By using Jane Iredale's acclaimed mineral makeup line, you are not only supporting the health of your skin and body, but the overall health and wellness of the globe!
We are honored and excited to carry Jane Iredale's healthy and beautiful skin care makeup line! Come explore what Jane Iredale has in store for YOU here at Wellness on Whyte.