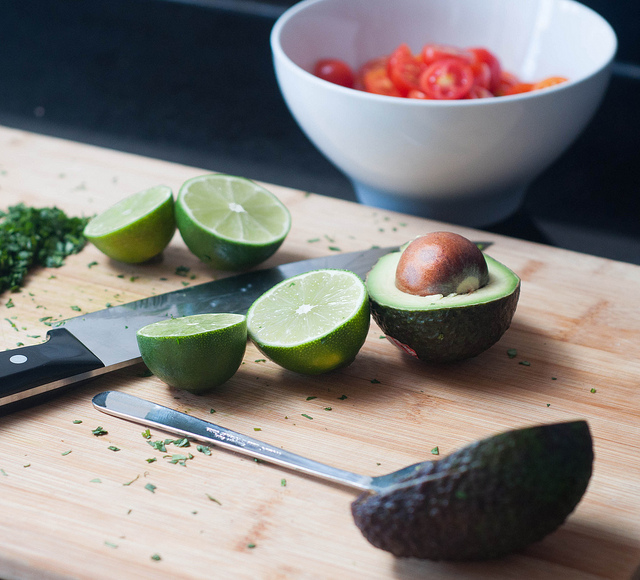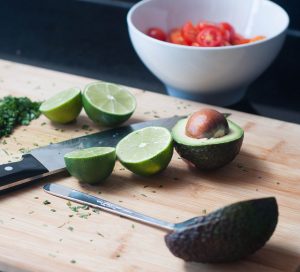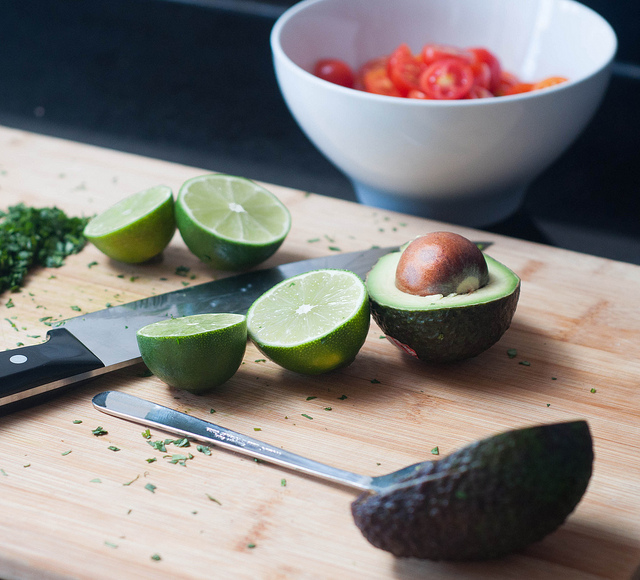 The flavour combination in this salad is reminiscent of the irresistible flavour of guacamole, but with the addition of greens to increase nutrient and fibre content.  This dish draws on local and seasonal ingredients with a few borrowed from our neighbours to the South. What can I say? I'm envious of Mexico's treasure trove of amazing local ingredients. This salad can be elevated to main course status with the addition of your choice of protein using the suggestions below.
Ingredients
There isn't a need for exact quantities in this rustic recipe.
1 head of your choice of green lettuces or kale, roughly torn
2-3 medium locally grown tomatoes or a couple handfuls of cherry tomatoes, roughly chopped
Chives, finely chopped – since these grow like a weed even in the chilly Alberta spring, they are a good substitute for the green onion I normally add to this salad
1-2 ripe avocados, cut in to large chunks
Dressing
2-3 glugs of a good quality oil – I use unfiltered, organic olive oil for it's antioxidant benefits
Juice of 1-2 limes – this is the critical ingredient that ties together all the flavours in this salad
Pinch of both salt and pepper
Mix all the above ingredients and, voila! It's a total crowd-pleaser for your next BBQ, party or dinner for one.  If the avocado gets a bit mushed up and coats the greens, all the better.
Main Course Elevation Options:
Corn Kernels, steamed, off the cob – locally grown Alberta corn becomes available in late July or early August (ask at your market to ensure non-GMO)
Black, pinto, or kidney beans- a few handfuls of beans adds protein to make this a main meal.  If using tinned beans, look for BPA-free tins at your local health food market.  If cooking from dried, the addition of a piece of kombu seaweed to the cooking water can help to make the pulses more digestible.
Ground Cumin – a pinch of cumin stirred through the mixed beans and corn will impart a depth of flavour to the already delicious dish.
I am in the Moment Mindful Eating Tip:
Take 10 deep breaths before you begin eating, this will slow the nervous system toward parasympathetic mode-right where you need to be to optimally digest and absorb your meal.  Take a moment to be grateful that you have plenty of food to eat, especially something so delicious.  Enjoy!
Written by Anna Cott. Anna is a nutrition consultant whose lifelong passion for health and wellness evolved into a BSc (hons.) Nutritional Science and a Naturopathic Nutrition Dip.  Anna loves to find creative ways to feed her family healthily, despite the business of life.