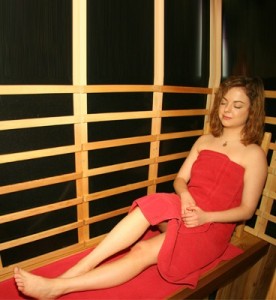 We at Wellness on Whyte are welcoming our Monthly Mantra, I am immune. This mantra inspires us to focus on our health as the winter is in fast approach. Immunity is defined as the ability of an organism to resist a particular infection or toxin. The cold weather, our bustling western lifestyles and a lack of sunshine are just a few of the standard immunity depreciators that all Edmontonian succumb to. If you are tired of getting the annual flu and needing to detoxify the day off of you, our infrared sauna is the solution.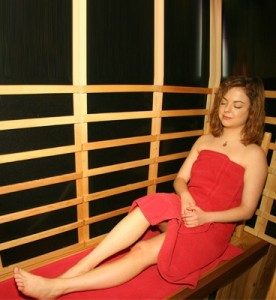 Step into a piece of paradise at Wellness on Whyte and let the heat melt your immunity deficiencies away.Our infrared sauna offers benefits such as:
1.       Reducing your risk of heart disease: Studies show that people who use infrared saunas regularly (2 to 3 times per week) reduce their risk of heart related death by 27%.
2.       Lengthening your life: Research shows that regular sauna therapy extends longevity from almost any illness or disease. During the 20-year study period, researchers noted a 40-percent reduction in premature death for those men who enjoyed a sauna daily (meaning 7 times weekly) versus those men who only popped into the sauna to bathe once per week.
3.       Cleanses from toxins: The average healthy adult expels roughly a quart of sweat daily via the eccrine glands. However, infrared sauna bathing triggers the eccrine glands to secrete a quart of perspiration in a matter of just 15 minutes! Get rid of those toxins fast and enjoy a healthy glow.
4.       Simulates the effects of exercise: Researchers at the University of Wisconsin-Madson School of Medicine and Public Health agree that sauna bathing has a similar effect to intense physical activity on the human body when it comes to heat stress. Sweating in a sauna after exercise soothes and relaxes muscles, externally induces sweating and expands or opens the blood vessels to optimize blood vessel function—which can be of particular benefit to patients with a history of cardiovascular disease. With winter approaching us all we tend to skip a work out or two when it gets to be too chilly to go outside. Come in for a sauna treatment instead. Gain the benefits of physical activity while warming up and giving your body a relaxing treatment.
5.       Lower's Blood Pressure: Several naturopathic studies indicate that perspiring in an infrared sauna can reduce blood pressure. We at Wellness on Whyte are all about the natural approach to health.
Book an infrared sauna session at Wellness on Whyte and treat your body right. All you have to do is show up and bathe in the multitude of benefits the infrared sauna provides. Embrace immunity.
You can book here or by calling 780-437-9355. Click here for pricing and more information: https://www.wellnessonwhyte.com/therapies/infrared-sauna/