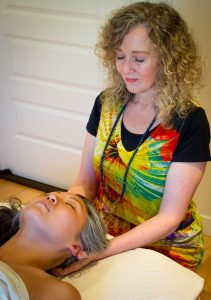 Alanna Prather RMT, TMTT — Clinical Massage Therapist, Thai Massage Therapist and Teacher, Fifth-Level Karuna-Usui Reiki Master, Workshop Facilitator, Energy Worker, HeartMath® Certified Coach/Mentor and Writer
Alanna began studying and working in the field of personal transformation twenty years ago when called to create deep-level change in her own world; and when a direct encounter with her chakra energy during meditation forever changed the way she viewed human existence, she began to walk a far different path of service. Her extensive spiritual and ongoing clinical massage studies recently took her on a life-changing 3.5 month journey to Thailand where she certified to provide and teach Thai massage, experiencing first-hand the ancient ways of the Thai masters, Hill Tribes and Temple Monks.
She gratefully brings the spirit, skill and compassion of Thai Massage to her work here in Edmonton where she also offers Reiki and a dynamic, intuitive variety of western-style clinical massage services that relax, mobilize, reduce pain, balance, energize, detoxify and heal.
Having worked and volunteered for several years in the health-wellness-and-social services field to support those who were suffering and searching for solutions, she has developed a level of insight and sensitivity that richly informs the skill she brings to her mind-body-soul treatments. Each of her vibrant living therapies is personalized to support people wherever they are at in their lives, to help them move past existing limitations into ever-brighter possibilities.
Book a Lymphatic Drainage appointment  or Traditional Massage appointent with Alanna now, or call 780-437-9355.
HeartMath is a registered trademark of Quantum Intech, Inc. For all HeartMath trademarks go to  http://www.heartmath.com/trademarks/